Frequently Asked Questions
How much does each bundle weigh?
---
Each bundle weighs about 3.5 ounces.
---
Can your hair withstand high temperatures?
---
Absolutely! Our hair takes heat very well and can withstand high temperatures. However, it is reccomended to use as less heat a possible to ensure the longevity of the hair.
---
Can your hair be colored or bleached?
---
Yes! Our hair can be colored and bleached to your liking. Our hair is of the best quality and is well made and can withstand the most strenuous styling techniques.
---
Does your frontals, closures and wigs come pre plucked with baby hairs?
---
Yes, all of our units come pre plucked with baby hairs. However, the unit is fully cutomizable and enables you to style it exactly how you want. Rather you are a fan of baby hair or not.
---
What grade of quality is your hair?
---
Here at Radioaktiv Hair and Cosmetics, our hair products are all 10A 100% Mink Brazilian.
---
What lengths do you offer?
---
Bundles are from 10"-30". Frontals and Closures are from 10"-20". Wigs are from 10"-24".
---
Do you issue refunds or exchanges?
---
We are comitted to providing quality products as well as quality customer services to all of our patronizers. However, due to the nature of our products, there is absolutly NO REFUNDS and NO EXCHANGES. ALL SALES ARE FINAL.
---
How long will it take for me to get my products after purchasing?
---
Please allow 7-10 business days after purchasing to recieve your order. You will recieve e-mail updates of your order as well as tracking information when available. If you order a custom unit please allow 10-15 business days for order to be fulfilled.
---
Do you offer expedited shipping?
---
Unfortunely we do not offer this service at this time.
---
How long will your hair last?
---
Our hair is extremely well made due to our wefts being double wefted. On average, with proper care, our hair can last 1-2 years and even longer in some cases. Proper washing/conditining is essential in keeping hair at its pinnacle.
---
Do you have different color laces?
---
Yes, we offer a normal Medium color lace as well as a Transparent lace and a HD lace. Please see attached picture below for more details.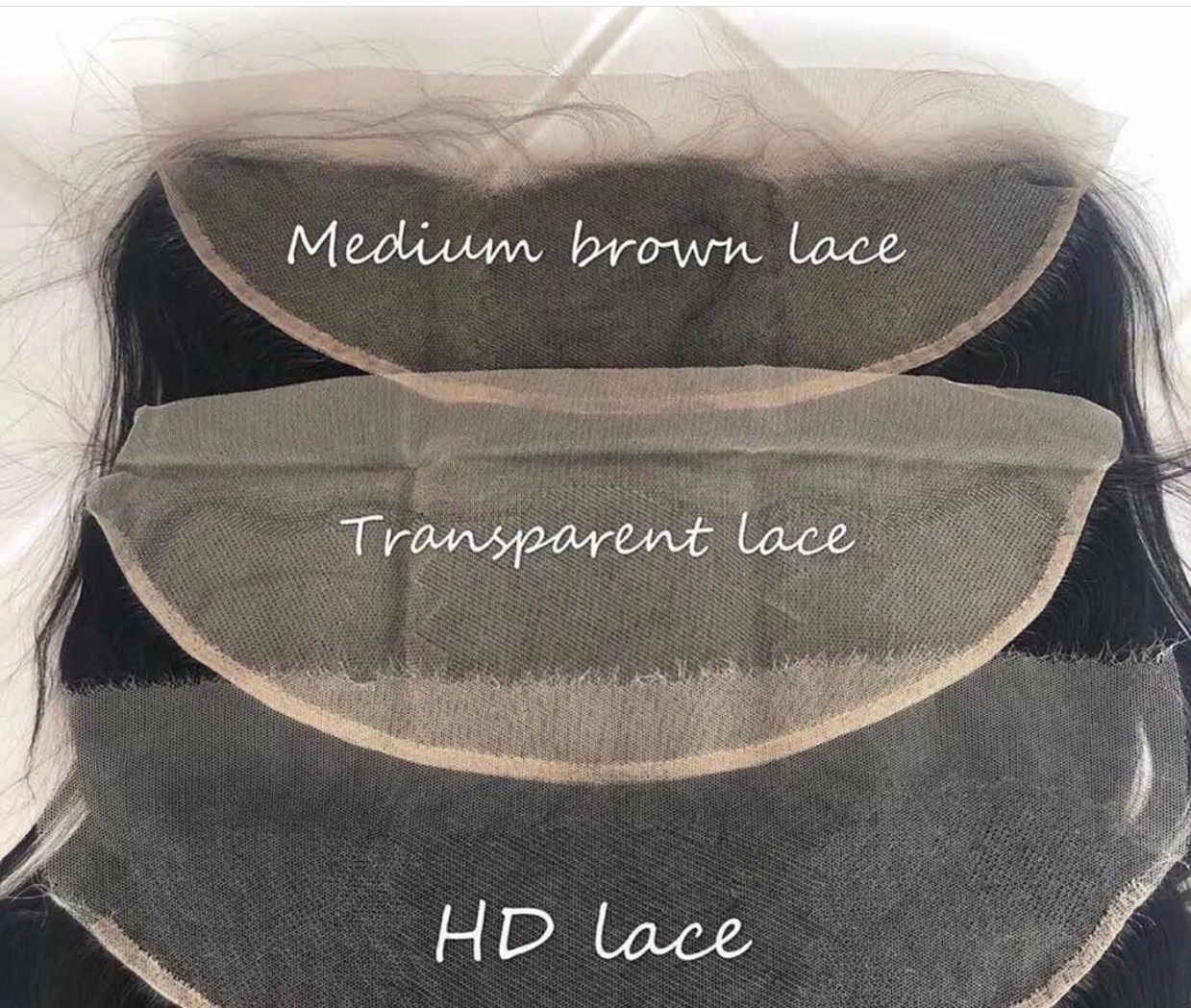 ---
What forms of payment do you accept?
---
Currently, we only offer one method of payment which is through our fast, extremely secure and easy to use credit card processing software, Stripe. You will enter in your payment information as well as shipping and biling addresses. Thereafter, you agree to our terms & conditions and your payment gets authorized.
---
Where do you ship?
---
We ship to all US states and territories to include the U.S Virgin Islands and Puerto Rico. We use USPS Priority Mail as our preffered shipping method.
---
Do you ship to P.O. Boxes?
---
Yes, we ship to P.O. Boxes using the USPS mailing service.
---
What is the estimated processing time for my order?
---
Order are usually completed within 7-10 business days. if you order a custom wig pleae allow 10-15 business days for order to be completed.
---
Will I be notified once my item has shipped?
---
Yes, you will be notified via e-mail that your order has been shipped and a tracking number will be provided.
---
What size is the wig cap on your full lace wigs?
---
Our full lace wigs has a standard 22.5 cap size. However, the wig has elastic bands installed that are adjustable to accomodate smaller head sizes to ensure a secure fit.
---
Can I do a glueless install using your wigs?
---
YES! Our wigs come with adjustable elastic bands installed as well as teeth that can be used to secure the wig into the braid.
---
Are your ingredients listed on your cosmetics?
---
Yes, as stated by law, our ingredients are listed on our packaging.
---
Are your Lipglosses and Matte Lipsticks tested on animals?
---
Absolutly not! Our Lipglosses and Matte Lipsticks are Gluten- Free, Vegan, Paraben- Free, Plant-Based, Cruelty-Free. and Made in USA
---
---
© 2021

by

Radioaktiv

Hair and Cosmetics.

All rights reserved.